Stub templates just show off a wiki's flaws. Instead of using a stub template, make the page better!

The Returned of Tarantula Boy was the twenty-third episode of Growing Up Creepie. It premiered on  February 9, 2008 along with the other episode in the half-hour broadcast, "All The President's Pests."
Skipper (AKA Tarantula Boy ) from episode 2, is back with a movie about him, and invites Creepie to the first screening. Where unbeknowst to everyone, Dr. Pierce plots to add Skipper after hearing the movie's advertisement.
Getting two tickets, Creepie invites Chris Alice to come along too.
After the movie Skipper asks Creepie to show him around town.
While on their date Dr. Pierce tries and fails to capture Tarantula boy, finally stopping him and Creepie in an alley-way.
After calling for his mother, who wraps Dr. Pierce in a silk cocoon and throwing him in a dumpster, Skipper tells Creepie he was raised by a spider and asks if it seemed weird.
Saying "Not to me." Creepie then invites Skipper and his mum to her house to meet her family where it turns out their mothers know each other.
Characters
Edit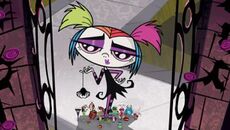 Click here to view the gallery.
Allusions
Edit