Stub templates just show off a wiki's flaws. Instead of using a stub template, make the page better!
Going For Brogue was the twenty-second episode of Growing Up Creepie. It premiered on Janurary 26, 2008 along with the other episode in the half-hour broadcast, "Yellow Jacket Racket."
The Goth Kids ask Creepie to be their newest bagpiper for their bad.
While practicing Creepie learns there are woodworms living inside the bagpipes and works with them to be the best she could be.
Seeing this, Chris-Alice starts to question her friend's sudden strange behavior.
At the end of the episode Creepie tell Cris-Alice she was raised by bugs, but she doesn't believe her.
Characters
Edit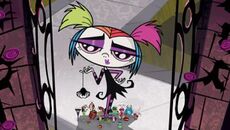 Click here to view the gallery.
Allusions
Edit