Fashion Victim
Season 2, Episode 25B
Air date
4/12/2008
Written by
Roger Eschbacher and Peggy Sarlin
Episode guide
Previous
Creepie Crawling
Next
Wanna Bee
Stub templates just show off a wiki's flaws. Instead of using a stub template, make the page better!
Fashion Victim was the twenty-fifth episode of Growing Up Creepie. It premiered on April 12, 2008 along with the other episode in the half-hour broadcast, "Creepie Crawling."
To stop anyone from winning a very powerful bug-zapper Creepie enters a fashion show.
After an accidental bag-swap Creepie follows Carla to a rundown mall where the 'Sisters of Style' give her a make-over.
The next day Creepie bumps into Chris-Alice and Budge who encourage her to sign up for the fashion show.
In the final round of the fashion show, Creepie comes out looking like her old self again and wins the bug-zapper which she quickly throws into a dumpster.
Characters
Edit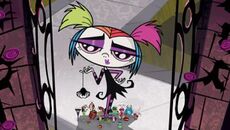 Click here to view the gallery.
Allusions
Edit