Creepie Crawling
Season 2, Episode 25A
Air date
4/12/2008
Written by
Ruby Ann Bradt Vanderzee and Rowan Culter
Episode guide
Previous
Creepie Cousin
Next
Fashion Victim
Stub templates just show off a wiki's flaws. Instead of using a stub template, make the page better!
Creepie Crawling was the twenty-fifth episode of Growing Up Creepie. It premiered on April 12, 2008 along with the other episode in the half-hour broadcast, "Fashion Victim."
This the story of how Creepie got raised by goth family.
Long time ago, Creepie Creecher  was left on the on the porch of the Dweezwold Mansion. The bug owners, Vinnie and Caroleena, saw her and quickly adopted her and put her in a special room, where she quickly found out that clowns are creepie. When she was the age of 5 she found out that she was a human. At age 12 she wanted to play with the other humans, thus leading to the first episode.
Characters
Edit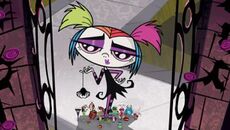 Click here to view the gallery.
Allusions
Edit