Chris-Alice Hollyruller
is a female student at
Middlington Middle School
, and a friend to
Creepie
and
Budge
. Her father is an exterminator, and her mother is a realtor.
Mike Young Productions Profile
Edit
"Chris-Alice is class president, editor of the yearbook, captain of the girls' wiffle ball team, president of the pre-college prep college prep club and plays bass trombone in the stage band. Chris-Alice's parents would like her to do even more, but after Chris-Alice's nervous breakdown last year, they decided to cut her some slack. Chris-Alice is an organizer, a do-gooder, who's always campaigning, even when she's not running for office. So, when Creepie shows up at school, Chris-Alice goes out of her way to befriend her, even through Chris-Alice thinks Creepie is way weird. Creepie appreciates the fact that Chris-Alice, unlike most of the other kids at school, is reaching out to her. On the other hand, Creepie finds it annoying that Chris-Alice is always signing her up for school activities without even asking her first. Creepie also has to keep her distance from Chris-Alice because Chris-Alice's father is the local exterminator. If Chris-Alice's father ever found out about Creepie's living situation, her entire family would be wiped out. Chris-Alice can sense Creepie's hiding something but, can-do person that she is, she'll stop at nothing to figure out what it is. All this tension and secrecy is complicated by the fact that Chris-Alice lives next door to Creepie's family. Though there are ten-foot hedges surrounding Dweezwold Mansion, this is much too close for Creepie's comfort. She and her family have to be constantly on their toes – or claws - to keep the Hollyrullers at bay." (Source:Mike Young Productions)
Appearances
Edit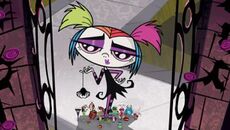 Click here to view the gallery.
Chris-Alice's name is a play on the word "chrysalis".
Her catch phrase when things go badly is "Soggy muffins!" An example of this is when her phone died.