Stub templates just show off a wiki's flaws. Instead of using a stub template, make the page better!
Attack of the Wasp Zombies was the fourth episode of Growing Up Creepie. It premiered on October 14, 2006 along with the other episode in the half-hour broadcast, "Legend of the Locker".
The show starts out with Creepie watching a horror film that her parents told her that it would give her nightmares. Then in the middle of the show, she fell asleep. She dreamed that her friends were enslaved by the evil wasp, and forced to gather food and worship the "Mother Wasp".
Characters
Edit
Dr.Pappas: All wasps like to drink honey dew..."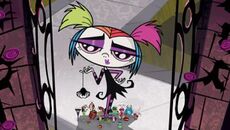 Click here to view the gallery.
Creepie's friends, Chris-Alice, Budge, Melanie, and Carla all mispronunce the word "karaoke." The proper way is "ca-ra-ok."
Allusions
Edit
Community content is available under
CC-BY-SA
unless otherwise noted.